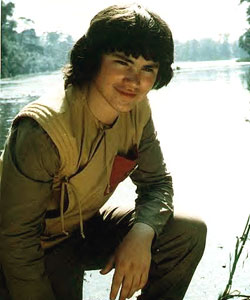 Companion of the Fourth and Fifth Doctors. Adric was a child genius who had been awarded a gold star for mathematical excellence, yet he craved the recognition of his peers, and especially his brother, Varsh. He was an Alzarian, a race that had great recuperative powers and adapted quickly to planetary changes.
The Fourth Doctor and Romana met Adric who was one of a group of lads known as the Outsiders, on Alzarius in E-Space, where he helped the two Time Lords escape a nasty fate at the hands of the Marshmen (5R).
Adric then stowed away on the TARDIS and helped the Fourth Doctor defeat the Great Vampire, and free the Tharils from Rorvik. Back in normal space, he helped the Fourth Doctor fight the Master on Traken, Logopolis and Earth. There, he watched the Fourth Doctor regenerate.
Soon afterwards he was kidnapped by the Master, who used his mathematical abilities to create Castrovalva. He then fought alongside the Fifth Doctor, Nyssa and Tegan against Monarch, the Mara and the Terileptils and George Cranleigh.
After fighting the Cybermen, he sacrificed himself to save Earth by staying on board a doomed spaceship, taking it back through time 65 million years until it crashed on Earth (5R-6B).