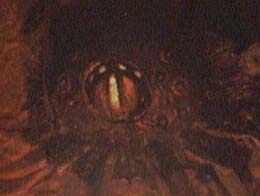 Their invasion of the Earth failed because the portion of their conscious which had been incorporated on Earth was short circuited by radio signals created by the Third Doctor and Liz Shaw (AAA).
The Nestene were summoned back to Earth by the Master, who helped them take over the Farrel plastic factory. During their second invasion, in addition to the deadly, dummy-like Autons, the Nestene also controlled by short-wave radio, a murderous range of plastic items such as a chair, a doll, a telephone cord, which needed the arrival of more Nestene before they could be activated.
The Autons were also used posing as jolly carnival people, handing out millions of plastic daffodils for free. The Third Doctor managed to convince the Master that the Nestene would destroy him too, and the Time Lords cooperated to banish them back to outer space before they could fully materialize. (EEE).