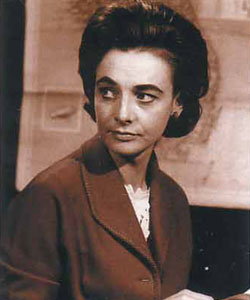 Barbara was one of the First Doctor's companions. Like Ian Chesterton, Barbara Wright was a teacher at Coal Hill School, teaching History. Her curiosity about Susan Foreman's extraordinary knowledge led her and colleague Ian Chesterton to investigate the girl.
Kidnapped by the Doctor, Barbara proved a resourceful and insightful adventurer, whether it was fighting off the lecherous advances of the Roman Emperor, Nero, or inspiring the beleaguered Menoptra to destroy the evil Animus (N).
Amongst her journeys met the cavemen, the Daleks, Marco Polo, the Voord and the Sensorites. Barbara even impersonated a god during the Aztec era, hailed by the Aztecs as the reincarnated Yetax (F). Then she became temporarily miniaturized to ant size, was captured by Roman slave traders, and almost became part of El Akir's harem in Palestine.
Unlike Ian, Barbara was often terrified by the dangers she faced, and was especially upset by the amount of death and violence they encountered. She yearned to get back to Earth and a normal life., although she was close to the Doctor - and treated Susan as a daughter.
When she and Ian Chesterton found they could return to contemporary Earth via a Dalek time capsule, they left the Doctor and Vicki, heading back to a normal life at home (R).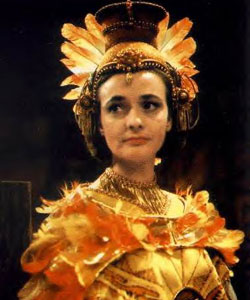 Born December 17, 1929, Jacqueline Hill had the acting bug at an early age, and went on to gain a place at the prestigious Royal Academy of Dramatic Arts (RADA).
After graduating RADA, she went into theatre making her stage debut in London's West End in "The Shrike". It wasn't long before she was appearing on TV,including, roles in, "Shop Window", "Fabian of the Yard" and "An Enemy of the People." It was around this time that she married top director Alvin Rakoff, who cast her opposite Sean Connery in one of ABC TV's "Armchair Theatre" plays.
She was asked to play Barbara Wright in Doctor Who after she and producer Verity Lambert, whom she knew socially, discussed the role at a party.
Soon after leaving Doctor Who in 1965 , she gave up acting concentrating on looking after her family. In the late 70's, she resumed her career with roles in TV productions including "Romeo and Juliet" and "Tales of the Unexpected", and making a return to Doctor Who as a character called Lexa in the Fourth Doctor story "Meglos". (5Q)
Sadly, she died on February 18, 1993 after a long illness.
.