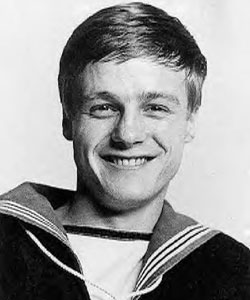 Companion of the First and Second Doctors. The Doctor met Ben on Earth, during his battle with the mad computer WOTAN. Ben was an able-bodied sailor who was anxious to get away from his on-shore posting and back to his ship , when he met Polly and Dodo in a bar whilst on leave, and got involved with things when Dodo went missing (BB).
Along with Polly Wright, he boarded the TARDIS to pass on Dodo Chaplet's farewell message when the Ship dematerialised, and was soon witness to the Doctor's first regeneration (DD).
Brought up in London, Ben was fearless , and at the same time, thoughtful. He was often wary of the Doctor, especially after his regeneration, but ultimately he trusted the Doctor implicitly. He was particularly close to Polly, always more than willing to jump into any situation to save her.
Polly and Ben then aided the Second Doctor against the Daleks, the Cybermen, Professor Zaroff and the Macra Finally after defeating the Chameleons, they discovered they were back in London on the same day that they had left, and chose to remain there (KK).