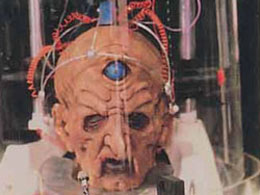 suspended animation to finally create his own army of White (or Imperial) Daleks. But the Sixth Doctor defeated him. Betrayed by an employee of Tranquil Repose, Davros was captured by the Daleks and taken back to Skaro (or Skaro II) (6Z).
Davros resurfaced again, about 2963 AD. Leading his White Daleks, and using the identity of the Emperor Dalek, Davros used the Daleks' time corridor technology to travel back in time to 1963 London to capture the Hand of Omega. There, he fought the regular Daleks, led by a Black Dalek. As a result of the Seventh Doctor's intervention, both Dalek races were utterly devastated. Either Skaro's, or Skaro II's, sun was destroyed. However, Davros escaped again (7H).
It is possible that Davros finally achieved his dream of reclaiming control over his creations. The Emperor Dalek of later years may very well have been an evolved version of Davros (LL).