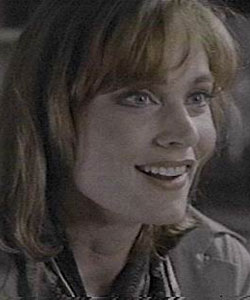 Daphne Ashbrook comes from a theatrical family in San Diego. Her father is head of Palomar College's drama department, and her mother is a teacher who still acts in local theater. Her sister Taylor and brother Dana are also actors. Dana played Bobby Briggs in the series Twin Peaks.
It was through Daphne that her brother Dana got his first professional break. She urged her agent to come to San Diego to see her brother in a high school production. The agent signed Dana up, and he made his television debut in an episode of "Cagney & Lacey."
Daphne has appeared in both television and movies. She is best known to science fiction fans as "Ensign Melora Pazlar" from the "Star Trek: Deep Space Nine" second season episode "Melora."
Melora was a beautiful and strong-minded but wheelchair-bound woman, whom Doctor Bashir falls in love with. Doctor Bashir tries to help her, but she decides that she is better off as she is.
Daphne has also had staring roles in the films "Dumbarton Bridge" 1999, "Automatic" 1995, "Dead Man's Revenge" 1993, "Sunset Heat" 1992, "Intruders" 1992, and her first staring role in the 1986 movie "Quiet Cool."