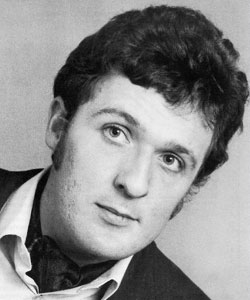 He also developed, with Tom Baker, an idea for a film called "Doctor Who Meets the Scratchmen". He has also novelised several films including "Baby", "Splash", under the pen name Ian Don, "My Science Project" and "Down and Out in Bevely Hills".
Ian also returned to the stage appearing in such plays as "Conduct Unbecoming", "Ableard and Heloise", "The Importance of Being Ernest", "The Rivals", The Knack", The Baggage" and " The Architect and the Emperor of Assynia" .
Ian also appeared in differant roles in several well know TV series including "The Brothers", "Hazel" in the episode "Hazel and the Big Sleep" (1979), "Shine on Harvey Moon" (1984), and "Bergerac" in the episode "Return of the Ice Maiden".
Unfortunately, on 29 October 1986 and before he had completed the novelisation of the 1965 Doctor Who story "The Rescue", he suddenly passed away as a result of a diabetes related illness. The novel was subsequently completed by Nigel Robinson, the editor of the range of books at the time. This was only 6 weeks after his last work in front of a camera for his lengthy interview in the Reeltime Picture's "Myth Maker" series.