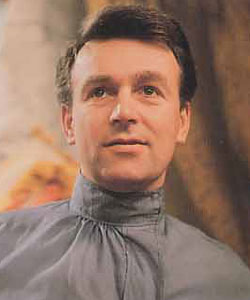 Ian was one of the First Doctor's companions. Like Barbara Wright, Ian Chesterton was a teacher at Coal Hill School, teaching History. His curiosity about Susan Foreman's extraordinary knowledge led him and colleague Barbara Wright to investigate the girl.
Along with his colleague, Barbara Wright, Ian followed Susan home in an attempt to find out more about her, and found himself in the Tardis (A).
Amongst his journeys, he showed Za how to make fire, and met the Daleks and Marco Polo. He was accused of murder on Marinus, he then went on to meet the Aztecs, and the Sensorites. He became temporarily miniaturized to ant size, then helped to rescue Vicki, and was captured by Roman slave traders.
Ian proved a brave and intelligent adventurer, whether he was fighting for his life against an Aztec warrior or dealing with the Zarbi on Vortis