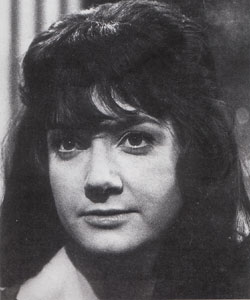 Adrienne Hill was born in Plymouth, England. After completing her training at the Bristol Old Vic, stated with the old Vic Company in London. She then went on to spend eight years in varied repertory theater roles.
Having been spotted by "Doctor Who" production assistant Viktors Ritelis while understudying for Maggie Smith in a play called "Mary, Mary", she was invited to audition for the role of Princess Joanna in "The Crusade" . Although she did not win that part, director Douglas Camfield remembered her and cast her as Katarina.
After appearing in "Doctor Who" she went on to have successful roles, especially on the radio, and landed a regular role in the BBC Radio's "Waggoner's Walk". She then moved abroad with her husband (Alan Rakof) when his work took him first to Holland and later to the USA.
In the late seventies, after her marriage broke up, she returned to England and studied for a degree. During the eighties she launched a new career as a drama teacher, while continuing to do occasional acting work.
Sadly Adrienne Hill died as a result on cancer, 6th October 1997.