Unusually, we don't get to see Mel meet the Doctor on screen (the only other companion who we didn't see join was Susan, at the very start of Doctor Who).
When she first appears, we are watching a recording from the matrix of a story in the Doctor's future, although she knew him, he had yet to meet her due to the Time Lords taking him out of his own time stream. However, we soon learn that Mel is a twenty-one years old computer programmer from "present day" Earth,(Pease Pottage, Sussex).
She is heavily into aerobics and health food. She considers the Doctor overweight and in need of regular aerobics, althoug the Doctor insists he gets quite enough exercise dashing around the Galaxy defeating evil. She often attempts to force health-giving, vitamin-enriched food on the Doctor (muesli, raw carrots, etc.), which may provide useful comic relief.
She is also a screamer - she probably has the loudest and shrillest scream of all the companions who travelled with the Doctor. however, this masked a keen mind, coupled with a photographic memory that was often very useful.
After the trial was over, they travelled together, and Melanie witnessed the Doctor's sixth regeneration. She quickly adapted to the new Doctor and they continued travelling in the TARDIS until they reached Svartos where, after defeating the criminal Kane, Mel decided to go her own way. She opted to travel with Sabalom Glitz and steer him away from his criminal dealings.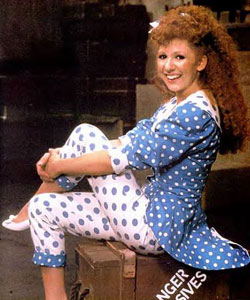 Bonita Melody Lysette Langford was born on 22 July 1964 in Hampton Court, Surrey. By the age of six she had won Hughie Greene's "Opportunity Knocks" TV talent contest and gained membership of Equity.
Later she trained at the Arts Educational and Italia Conti stage schools in London. By her early teens she had starred on New York's Broadway "Gypsy", on London's West End "Gone With the Wind" and in television shows including the Bonnie and Lena variety spectaculars.
Her biggest success of the midle-seventies came when she played Elizabeth Bott in seven of the twenty-seven episodes of the children's drama series "Just William". It was this that helped fix her in the minds of the British public as a precocious child star. an image she found it hard to shed in later years.
Bonnie has amassed an impressive list of credits as a dancer, singer and