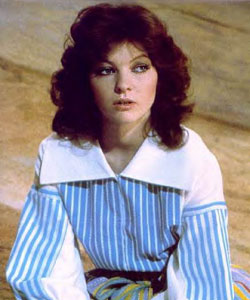 One of the Companions of the Fourth and Fifth Doctors. She was Tremas of Traken's daughter.
Nyssa of Traken was a quiet, studious girl who was highly intelligent, and often able to talk to the Doctor on almost his own level. However, she had been brought up in a very secure and tranquil environment, and often found the Doctor's universe too violent and foreboding.
She helped the Fourth Doctor defeat the Master on Traken, then went in search of her father, whose body had been taken over by the Renegade Time Lord (5T).
She followed the avatar of the Doctor, known as the Watcher, to Logopolis, then Earth, where she watched the Fourth Doctor regenerate.
She then helped the Fifth Doctor fight the Master, Monarch, the Mara and the Terileptils. During a visit at Cranleigh Halt, she discovered she was a perfect double for Ann Talbot, Charles Cranleigh's fiancee (6A). Alongside the Fifth Doctor and Tegan, she fought the Cybermen, the Master again (disguised as Kalid), Omega, the Mara again, and Mawdryn.
Finally, she found her calling when she chose to remain on Terminus to synthesize hydromel and help the victims of Lazar's disease a condition similar to Leprosy (6G).