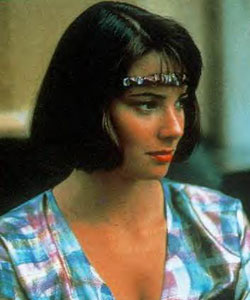 Peri whose full name was Perpugilliam Brown, was born in the United States,and was studying Botany when she met the Doctor. She encountered the Doctor whilst on Holiday in Lanzarote, after almost drowning, when she was saved and taken aboard the TARDIS by Vizlor Turlough (6Q).
She decided to stay with the Doctor realizing that life with him would be far more fun that her current activities. She was a rather naive young girl, but often showed great courage in the face of danger.
Also, being a very attractive woman, she was lusted after by more aliens and foes than any other Doctor Who companion.
She rapidly formed a close bond with the fifth Doctor, a relationship that was to change completely with his traumatic regeneration into his sixth persona (6S). Peri was often swamped by the bombastic nature of this incarnation, in turns admiring him and being terrified of him.
When the Time Lords took the Doctor out of time, he was unable to save Peri who was seemingly captured by a human surgeon who placed an alien brain inside her body. However, this was most likely a false image placed into the Time Lord's Matrix by the Valeyard, in order to implicate the Doctor in Peri's apparent death (7B). Some still believe that eventually she left the Doctor to marry King Yrcanos on Thoros Beta.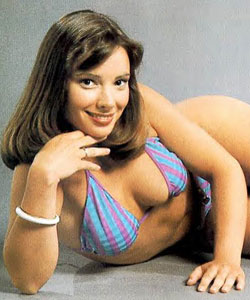 Nicola Bryant was born the daughter of a heating engineer, in 1962, in Surrey, England. She began her training in dance and music at the age of three, studying classical ballet, then jazz and tap dance, the piano, flute and guitar, and finally acting at the Webber Douglas Academy of Dramatic Art. There she continued to develop her acting skills, while pursuing her hobbies of golf and music.
It was also during her time at drama school, that Nicola married the Broadway singer, Scott Kennedy, although they later separated. Her final production at Webber Douglas was "No, No, Nanette", in which she played the lead. She was spotted by an agent, Terry Carney (William Hartnell's Grand-daughter's husband), and asked to audition for the part of Peri in "Doctor Who", which she got.
Nicola joined Doctor Who straight out of drama school - her year in a U.S. school and her ability to do a decent American accent making her a natural for the part of American college student Perpugilliam Brown.