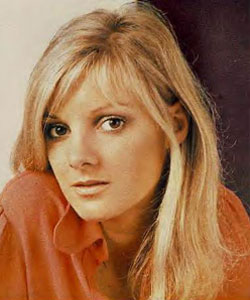 Companion of the First and Second Doctors. The Doctor met Polly on Earth, where she was working as a Secretary on the Wotan project. Along with sailor Ben Jackson, who she met in the nightclub 'Inferno' along with Dodo, she accidentally joined the Doctor when she went into the TARDIS to return the key Dodo had given her to pass on (BB) and the TARDIS dematerialised.
Polly was a typical sixties girl - full of fun and always trying to see the good in people. She wasintelligent, imaginative, impulsive, inclined to act first and think later. She got terribly frightened by unimportant things but was stoic about larger dangers. She was totally undomesticated, not being able to sew, knit or cook.
She was soon witness to the Doctor's first regeneration (DD), and had a number of adventures, facing amongst others the Daleks, the Cybermen, Professor Zaroff and the Macra Finally after defeating the Chameleons, Polly and Ben discovered they were back in London on the same day that they had left, and opted to remain there (KK).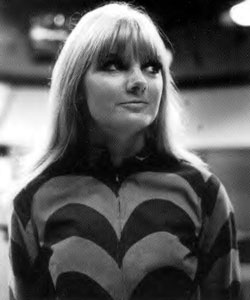 Anneke Wills was born on 20 October 1941,in Rotterdam, Holland. Anneke made her acting debut aged eleven in a film called "Child's Play." The film led to her gaining a scholarship to the Arts Educatonal Drama School which she attended for about four years, winning many children's TV and theatre roles.
After attending acting school she joined Royal Academy for Dramatic Art (RADA), but was asked to leave before completing the course. This did not, however, affect her ability to gain further work as more TV work followed including appearances in such TV shows as "The Saint -The Helpful Pirate" in 1967 and in two episodes of "The Avengers" "Dressed to Kill" in 1963 and "£50,000 Breakfast" in 1967.
In 1966 she was cast as Polly in "Doctor Who" (her then husband, Michael Gough, having recently played the part of the Celestial Toymaker in the story of the same name).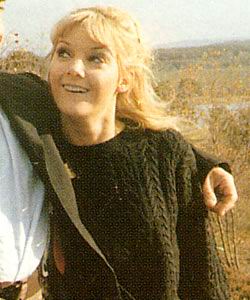 After her role in "Doctor Who" she won another regular role in the crime drama "Strange Report". before giving up acting to run a craft shop in Norfolk. She has also continued to cultivate her passion for painting throughout her life, and graduated from the Morley College in Fine Art.
After her divorce from actor Michael Gough in 1979, she left England and lived at various times in Belgium, then on to India - where she stayed in a religious retreat. After a period in the United States she returned to the stage in some Shakespeare productions.
In 1993 Anneke settled in Canada, where she has directed a production of the play "Rashomon", but works mainly as an interior decorator and as an accomplished artist, with her paintings being particularly sought after by Doctor Who fans.
Anneke's website and her artwork can be viewed or purchased from:
http://www.anneke.8m.net/