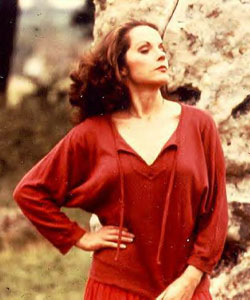 'Vivian Brodie'in episode: "Satan's Chimney", "Only When I Laugh" (1979) playing 'Leonora'in episode "Postman's Knock", and a regular role in "Brookside" as 'Penny Crosbie'.from 1993-1995.
She has taught improvisation and direction to students at the Academy of Live and Recorded Arts. In 1978, she married businessman Marcus Ringrose. They have a daughter named Lauren.
A one-time opponent to "Doctor Who", she was originally reluctant to audition for the part of Romana. After being told that it would be a departure from the traditional Companion, she went ahead and was given the role. However, it was not as much of a departure as she had been led to believe, and she left after a single season.
After "Doctor Who" Mary returned to the theatre to play 'Helen' in "Action Replay" at the Birmingham Rep, and has gone on to appear in numerous productions including advertisments for Sugar Puffs - playing Miss Honeypenny in a James Bond spoof - and the play "Why Is Here, There, Everywhere Now", at the Riverside Studio.
In the mid-eighties, she appeared in John Nathan-Turner's pantomime production of "Cinderella" as Prince Charming, along with Colin Baker, Nicola Bryant, and Anthony Ainley.
Mary enjoys wearing men's clothing to illustrate that she doesn't believe that a woman needs to wear a short skirt or a low cut top to be sexy.