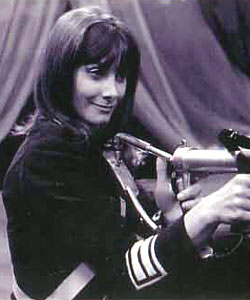 Sara Kingdom was an agent of Mavic Chen's Space Security Service, her exemplary record meant that she was assigned to hunt down and eliminate those responsible for forming a treacherous alliance with the Daleks. Sara was told that this group included the Doctor, Steven Taylor and fellow SSS agent Bret Vyon, her brother.
She followed Karlton's orders and on encountering the group, she gunned her brother, Vyon down. Eventually she was persuaded to join forces with the Doctor after he proved to her that Mavic Chen was the true traitor.
After a brief encounter with their old antagonist and fellow Time Lord, the Meddling Monk, and after traveling to planets such as Mira and Tigus they all arrive back on the planet Kembel.
Sara helped keep the Taranium Core out of Dalek hands until their Time Destructor was ready to be activated. She activated it herself, wiping out the entire Dalek task force but aging herself to death in the process (V).