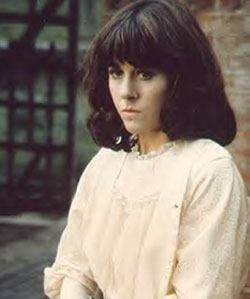 Sarah Jane Smith was the first of the Doctor's liberated female companions - unlike most of her predecesors she was more inclined to take action when in difficult spot than resorting to screaming for help, although she was very prone to tripping up at the most unfortunate moments.
She was an investigative journalist from Metropolitan magazine, by profession and fiercely independent by nature, a trait she had developed from being orphaned when young and brought up by an aunt, Miss Lavinia Smith, who also happend to be a distinguished scientist.
Sarah having assumed the identity of Professor Lavinia Smithto gain entry to a top secret research centre to investigate the mysterious disappearance of some scientists and their equipment. It was here that she encountered the Doctor and after encountering the Sontaran, Linx, Sarah became the Doctor's latest companion (UUU).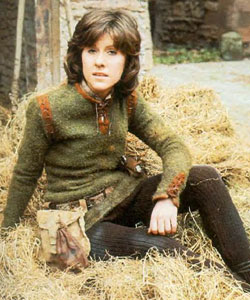 .
Although her beleif in women's liberation made her rebel at the churlish way the Doctor treated her, Sarah Jane soon grew to like him as his attitude softened and togeather they tackled a host of strange monsters and devious enemies including the Sontarans twice, the Daleks twice, the cybermen and the Zygons.
She encounterd the Wirrn on the Ark, and the Giant Spiders of Metebelis 3 where she witnessed the Doctor's regeneration into his fourth incarnation (ZZZ).
After abandoning Eldrad to his solitary fate, the Doctor recieved a telepathic summons back to Gallifrey, much to her dismay, Sarah was unable to go with him and they parted company back on Earth (4N).
He later delivered a present to her, K9 Mark 3, and together Sarah and K9 defeated a local coven of witches (K9 & Company). Despite warnings from K9, Sarah was later taken forcibly to Gallifrey where she helped stop Borusa gaining immortality (6K).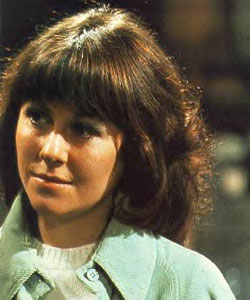 Elisabeth Sladen was born on February 1, 1948, in the city of Liverpool. She developed an interest in performing early on and began taking dance lessons at the age of five.
She finished grammar school, went to drama school for two years, then started work at the Liverpool Playhouse, as an assistant stage manager. Lis's first stage appearance was as a dead body, where she met a young actor named Brian Miller who she married two years later.
She moved into weekly rep after this, traveling around to various locations in England. Eventually she moved to Manchester where she spent three years, appearing in numerous roles, most notably as Desdemona in "Othello" her first appearance as a leading lady. She also got the odd part on Leeds radio and Granada television, and eventually appearing as a barmaid in six episodes of the long-running soap opera "Coronation Street".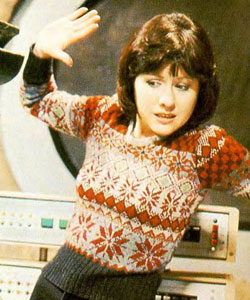 In 1972, she moved down to London. Her first television role soon followed a girl terrorist in "Doomwatch". She also appeared in an episode of Michael Crawfords series "Some Mothers Do Ave Em" and made two appearances in the police series "Z-Cars".
Notable appearances following that include a two-year stint as a presenter for a childrens' program called "Stepping Stones", a role as a stand-up comics spouse in the six-part "Take My Wife" , and, in 1980, her sole motion picture appearance to date, a small part in "Silver Dream Racer" as a bank secretary.
Later Barry Letts was to cast her as the female lead in a BBC Classics production of "Gulliver in Lilliput". Then John Nathan-Turner, asked her to reprise Sarah Jane in "K9 and Company", and she accepted, appearing as the star in the only Doctor Who spinoff ever produced.
Two years later, she would return again in "The Five Doctors", as a sort of command performance. In the early 80s, Lis performed (along with her husband) in another Barry Letts production, this one "Alice in Wonderland", in which she played the Dormouse.
In February 1985, though, Lis gave birth to a daughter, Sadie, and since then she has basically been in semi-retirement, putting her family first and her profession a distant second. Recently, however, she has become more active, reprising the role of Sarah Jane in"The Five Doctors" (1983), and in the Doctor Who radio serials "The Paradise of Death" (1993) "Doctor Who and the Ghosts of N-Space" (1996). She also appeared in the Children In Need skit "Dimensions In Time" (1993) and the spin-off video drama "Downtime" (1995). In addition, she has recorded guest appearances in "Men of the World", "The Bill" (1989) and "Peak Practice" (1996).