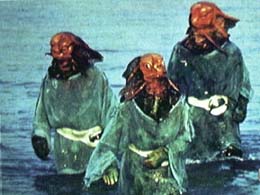 contacted by the Master who offered to ally himself with them.
The Third Doctor and the Chief Sea Devil talked peace, but they were thwarted by the interference of the Master and Walker, a civil servant who ordered a depth charge attack. In the end, the Doctor was forced to engineer an explosion which destroyed the Sea Devilsí undersea base before any more Sea Devils could be awakened (LLL).
The Silurian Icthar reanimated a Sea Devil commando led by Sauvix in 2084 AD, and used them to attack Sea Base Four. His plan was to launch nuclear missiles to provoke a war between the two blocs, and thus eradicate mankind.

His efforts were defeated by the Fifth Doctor, who used deadly hexachromite gas to wipe out the Silurians and the Sea Devils (6L). ...... Also see Silurians.