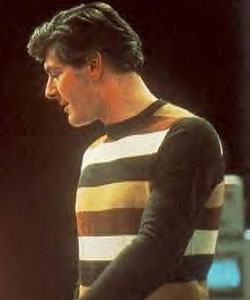 Peter Purves was born in New Langton, Lancashire on 10 February 1939. After leaving school he took a four-year teacher training course. In 1961, after only one year as a teacher, he turned to acting, initially with the Barrow-in-Furness Repertory Company and later with the Wimbleton Theatre Company.
His first TV role was during 50's and 60's in police drama "Z Cars" and more TV work followed, including leads in an "Armchair Theatre" presentation called "The Girl in the Picture" in 1964 and in an episode of "The Villains" in 1965.
Late in 1964 he auditioned for the part of a Menoptra in the "Doctor Who" story "The Web Planet", but was turned down. However, the director, Richard Martin, later cast him as Morton Dill in "The Chase", and this led to him playing Steven Taylor.
Peter has had probably the most successful career after "Doctor Who", becoming front man of long-running children's magazine programme"Blue Peter". More presenting work followed, primarily on sports-based programmes, and it is for this that he is now best known. He has also been managing director of a video production company. Peter can now be seen every year covering the world's top Dog Show, Crufts.
He is married to writer Gilly Frazer and has two children.