The TARDIS materializes in the Wasteland, a desolate part of the planet near the Gond city. Jamie finds a metal door in the rock face and opens it to reveal one of the Gonds, Abu, just before he is vaporized. After a trip into the Gond city, where nobody except Thara, the Council leader Selris son, believes them about seeing the man vaporized, they accompany Thara and manage to rescue Vana, just before she is to be vaporized, and take her to Selris. Selris explains that thousands of years ago the Krotons landed on the planet and after a brief battle have been instructing the Gonds in new sciences and skills with the aid of sophisticated Teaching Machines. For thousands of years the Krotons would name the two highest achievers amongst the Gonds, the High Brains, and invite them to become their companions. The Doctor and Zoe get selected as the next High Brains and thereby meets the Krotons. The Doctor then discovers that the Krotons are crystalline beings awaiting in suspended animation until they have drained enough mental energy from the Gonds' brains to be reanimated. The Doctor and Zoe enter the machines and their mental power reanimates the Krotons. The Doctor realizes that the Kroton life system is based on tellurium and then manages to destroy them with sulphuric acid.





The Doctor: Patrick Troughton
Jamie McCrimmon: Frazer Hines
Zoe Heriot: Wendy Padbury

Guest Appearances:
Selris: James Copeland
Thara: Gilbert Wynne
Abu: Terrence Brown
Vana: Madeleine Mills
Eelek: Philip Madoc
Axus: Richard Ireson
Beta: James Cairncross
Custodian: Maurice Selwyn
Student: Bronson Shaw
Krotons: Robert La Bassiere, Miles Northover, Robert Grant
Kroton Voices: Roy Skelton, Patrick Tull


Producer: Peter Bryant.
Script Editor: Terrence Dicks.
Writer: Raymond London.
Director: David Maloney.
Designer: Raymond London.
Costume: Bobi Bartlett.
Make up: Sylvia James.
Visual Effects: Bill King and 'Trading Post'
Music : None.


.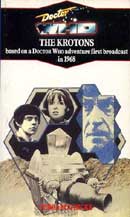 Novelised as "Doctor Who - The Krotons" by Terrence Dicks (0 426 20189 2) first published by W.H. Allen (now Virgin Publishing Ltd.) in 1985 with cover by Andrew Skilleter. New edition in 1991 with cover by Alister Pearson. Target library number 99.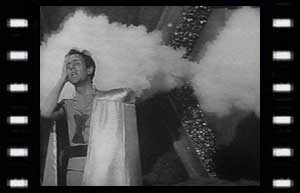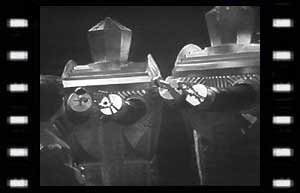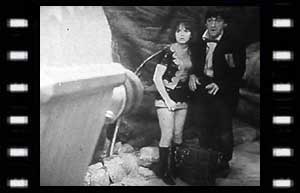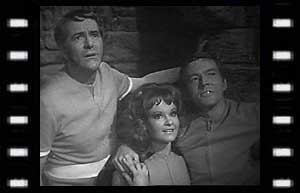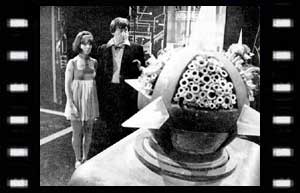 a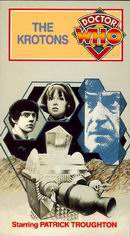 Released on Video as "The Krotons" (BBCV 4452) first released in 1992 with cover by Andrew Skilleter. Also released in Australia & New Zealand (BBC catalogue #4452), US and Canada release 1994 (CBS/FOX catalogue #8143).

"The Krotons" was a hasty replacement for another story (Dick Sharples' "The Prison in Space") which had hit script problems and ultimately had to be discarded.
This was the only story to feature the Hostile Action Displacement System (HADS), which allowed the TARDIS to dematerialise if endangered.


All four episodes exist as 16mm telerecordings, though a 35mm telerecording of episode one also exists. Episodes 1-3 were held by the Film & TV Library when audited in 1978.

Ealing Film Studio Stage unknown. (12-13 November 1968)
Studio recording Lime Grove D. (22, 29 November; 6, 13 December 1968)
West of England Quarry, Malvern, Hereford and Worcestershire. (10-11 November 1968)
Tank Quarry, North Malvern Road, Malvern, Hereford and Worcestershire. (10-11 November 1968)


Episode 1 - At the very start of the story, watch out for the sliding door which refuses to open.
Episode 1 - After the Doctor, Jamie and Zoe leave the TARDIS, they start to climb some rocks -- but Fraser Hines comes down too fast and crashes into Wendy Padbury, who is thrown back several feet.
Episode 4 - When one of the Gonds has his legs trapped under a rock, just before the Doctor and Zoe can help him he shifts his legs slightly and the "rock" wobbles considerably. It's then quite amusing to watch Pat Troughton and Wendy Padbury pretend the lump of polystyrene is heavy.
Episode 4 - While Jamie and Beta are making the sulphuric acid, at one point they walk backwards into each other. At this moment, Beta's face mask has slipped below his nose - but we then immediately see a shot from another camera in which the mask is in place again.
Episode 4 - The one time we see a whole Kroton (as it emerges from the Machine), spot the bulge in the bottom section where the operator's leg is moving.
Episode ? - Keep an ear out for Pat Troughton's tendency to say "Joey" instead of "Jamie, Zoe" ?
Episode ? - When the Doctor and Zoe are being taken into the Krotons, we see Jamie coming to stop them. The strange thing is, we see Jamie starting to run from a standstill, but supposedly he has just being running from somewhere else.