The TARDIS materializes in what appears to be no man's land on a First World War battlefront in France. When the Doctor and his companions emerge from a cloud of mist they find that they are really on another planet. It is split into time zones and a fierce war is being waged in each one. The wars are controlled by aliens, who have gathered soldiers from many periods of history, brainwashed them and put them to battle with the aim of forming an invincible army from the survivors to take over the galaxy. The Doctor is identified by the War Chief, assistant to the leader of the aliens, the War Lord, but he manages to seize the alien HQ with the help of soldiers no longer under the aliens' control and calls on the Time Lords for help.
aaThe Time Lords are a nearly omnipotent race, with the ability to control Time and Space. Both the Doctor and the War Chief are renegade Time Lords who each stole a TARDIS and escaped. The Doctor fled to explore the Universe (Time Lord policy is one of strict non intervention) whilst the War Chief gave Time Lord technology to the War Lords - in particular the SIDRAT's, an inferior kind of TARDIS - which enabled him to start the war games. The Time Lords intervene, capture and execute War Lord, return all soldiers to their proper time zones on Earth, and, finally, try the Doctor. They find him guilty of intervention and exile him to Earth after having changed his appearance. Jamie and Zoe are returned to their respective eras a moment in time before they met the Doctor, thus erasing all their memories of their adventures with him.






The Doctor: Patrick Troughton
Jamie McCrimmon: Frazer Hines
Zoe Heriot: Wendy Padbury

Guest Appearances:
Lady Buckingham: Jane Sherwin
Lt. Carstairs: David Savile
German Soldiers: John Livesey, Bernard Davies
Barrington: Terence Baylor
Willis: Brian Forster
General Smythe: Noel Coleman
Captain Ransom: Hubert Rees
Burns: Esmond Webb
Gorton: Richard Steele
Chauffeur: Peter Stanton
Policeman: Pat Gorman
Red Coat: Tony McEwan
Crane: David Valla
Lucke: Gregg Palmer
Von Welch: David Garfield
War Chief: Edward Brayshaw
War Lord: Philip Madoc
Security Chief: James Bree
Thompson: Bill Hutchinson
Riley: Terry Adams
Leroy: Leslie Schofield
Scientist: Vernon Dobtcheff
Harper: Rudolph Walker
Aliens: John Atterbury, Charles Pemberton
Spencer: Michael Lynch
Russell: Graham Weston
Moor: David Troughton
Du Pont: Peter Craze
Villar: Michael Napier
Petrov: Stephen Hubay
Time Lords: Bernard Horsfall, Trevor Martin, Clyde Pollitt
Tanya: Clare Jenkins
Quark: Freddie Wilson
Yeti: John Levene
Ice Warrior: Tony Harwood
Cyberman: Roy Pearce
Dalek: Robert Jewell


Producer: Peter Bryant.
Script Editor: Terrence Dicks.
Writer: Malcolm Hulke and Terrence Dicks.
Director: David Maloney.
Designer: Roger Cheveley.
Costume: Nicholas Bullen.
Make up: Sylvia James.
Visual Effects: Michaeljohn Harris.
Music : Dudley Simpson.


.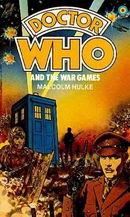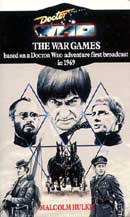 Novelised as "Doctor Who and The War Games" by Malcolm Hulke (0 426 20082 9) first published by W. H. Allen (now Virgin Publishing Ltd.) in 1979 with cover by John Geary. New edition in 1990 with cover by Alister Pearson. Target library number 70.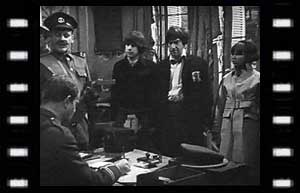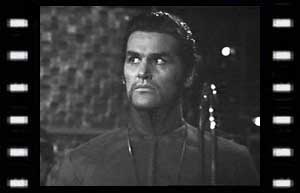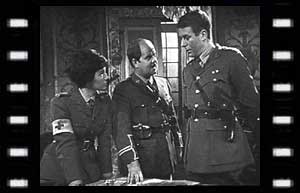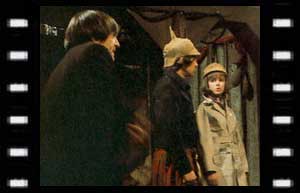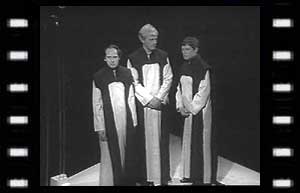 a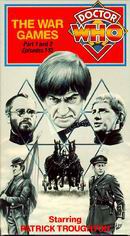 Released as "Doctor Who - The War Games" (BBCV 4310) in Australia & New Zealand (BBC catalogue #4310) and in US & Canada in 1992 (CBS/FOX catalogue #3400)as a two-tape set. Cover by Alister Pearson.

This is the first story introducing the Time Lords - and explaning the Doctor's origin."The War Games" was a replacement for yet another story that was dropped from this season.
"The Impersonators" by Malcolm Hulke, a six-part episode, was rejected by Derrick Sherwin along with a four-parter by Sherwin himself.
Patrick Troughton's son David appears as a Civil War zone soldier in this story.


All ten episodes exist as 16mm telercordings. Episodes 2, 5, 8 and 9 were held by the Film & TV Library when audited in 1978.

Ealing Film Studio Stage 2. (3 April 1969)
Studio recording in TC1. (22 May 1969)
Studio recording in TC4. (11, 18, 25 April; 2 May; 1969)
Studio recording in TC6. (5 June 1969)
Studio recording in TC8. (8, 15, 29 May; 12 June 1969)
Sheepcote Rubbish Tip, Wilson Avenue, Brighton, East Sussex. (23, 25, 26 March 1969)
Seven Sisters Country Park, Exceat, Seaford, East Sussex. (27 March 1969)
Bridle Path, Underhill Lane, Clayton, West Sussex. (28, 31 March 1969)
Eastborne Waterboard Road, West Dean, East Sussex. (30 March 1969)
Westdean and Church Only Road, West Dean, East Sussex. (30 March 1969)
High Park Farm, Ditchling Road, Exceat, Seaford, East Sussex. (31 March 1969)
Birling Manor Farm, East Dean, East Sussex. (1 April 1969)


Episode 2 - The Doctor is in a tree with Zoe, and he's looking through a mini-telescope at some troop movements. However, when the scene switches back to the Doctor and Zoe, the picture is still cropped into a circle for a brief moment.
Episode 7 - The Doctor tells Zoe and Russell that he is sending them back to the 1917 zone, but they end up in the American Civil War zone instead.
Episode 7, 8 - The cliffhanger and reprise don't match - observe the order in which the Doctor, Security Chief and guards file into the SIDRAT in booth.
Episode ? - Zoe has supposedly memorised the names of the resistance leaders, but doesn't know who the Mexican is.
Episode ? - At one point, Zoe seems to be trying hard to hold her pants up. The story goes that her buckle and zipper broke, but the filming was so far behind schedule that they told her to keep going regardless. What a trooper.