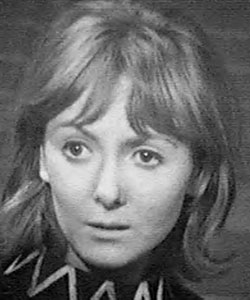 One of the First Doctor's Companions. She was an eighteen year old Earth girl, (last name unknown), from the 25th Century, who found herself stranded on Dido following a space crash, and becoming an orphan after her father and his crew mates had been murdered. Looked after by Koquillion, Vicki took the opportunity to join the Doctor, seeing him, Ian Chesterton and Barbara Wright as a surrogate family, after they rescued her and helped her expose the evil designs of her companion, Bennett (L).
She met the Romans, the Menoptera, the Crusaders, the Xerons, the Rills (whose robots she nicknamed "Chumblies"), the Zarbi, the Saracens, the Moroks, and the Daleks.
Vicki had a tendency to be inquisitive and trusting, and wanted to enjoy her travels as much as possible. She was bright, cheerful and resourceful - when trapped on a Dalek time ship, she alerted the TARDIS crew to the fact that the Daleks had placed a robotic duplicate of the Doctor in their midst (R).
When visiting twelfth century BC Earth, during the Trojan war, Vicki fell in love with the human soldier Troilus and, adopting the name Cressida, followed him to found a new city after Troy, chosing to remain with him. (U)



After studying for a teaching diploma at the Central School of Speech and Drama, Maureen O'Brien became a founding member of the Everyman Theatre in her native Liverpool.
About three months later she was persuaded to audition for the part of Vicki on Doctor Who. She was reluctant to accept the role, but did so partly to be with her London-based boyfriend (later her husband). It was a decision she later regretted as, although she liked the people she worked with, she did not enjoy the job and the enormous publicity it brought her.
After leaving Doctor Who she worked as a supply teacher at a girl's school in Kennington, then returned to the theatre. This was followed by a three-year spell in Canada, where she appeared as a regular in the TV series " The Whiteoaks of Jalna".
Since returning to the UK in the mid-seventies, she has had further success in theatre including "The Farmer's Wife", "The Tempest, As You Like It", "The Relapse", and "Six Characters In Search of an Author". TV roles have included "The Poisoning of Charles Bravo" (1975), "The Lost Boys" and "The Legend of King Arthur" (1979) She has also recieved recognition as a writer of crime fiction. She won Best Radio Actress in 1979 for an hour long monologue on BBC Radio 3.
.