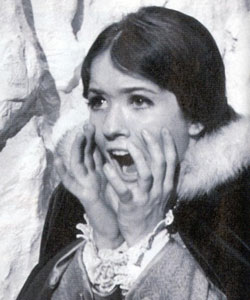 Deborah Watling was born on the 2nd January 1948 in Loughton, into a well-established acting family. It was perhaps surprising therefore that Debbie initially wanted to become a dentist, but upon failing all of her 'O' levels, enrolled at stage school. Her time there was short-lived, as she walked out three weeks later.
Debbie's TV debut came in 1957 playing the semi-regular character Sally in the TV series of H. G. Well's "Invisible Man" (1957-58). Other roles followed including the title role in Alice a 1965 play, "The Sound of Laughter" (1966), "The Power Game" (1966), "No Hiding Place" (1967).
In one of the Dr. Who episodes, "The Abominable Snowman" (NN), Victoria appeared with her father, Jack Watling.
(1973) (1973) After leaving Doctor Who, Debbie appeared opposite her father Jack Watling in the soap opera "The Newcomers" (1969),