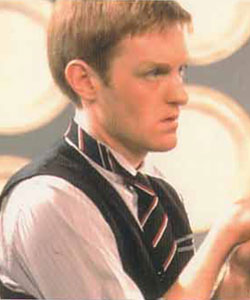 One of the Fifth Doctor's Companions. When the Time Lord met him, Turlough was a schoolboy on Earth at Bendon School where Brigadier Lethbridge-Stewart taught mathematics. He was saved from death by the Black Guardian who placed him amongst the TARDIS crew, intending to use him as his agent to assassinate the Doctor (6F).
Turlough is blunt, occasionally aggressive, but has an engaging personality. Despite his bluntness, he's chirpy and ever ready with an amusing quip.
During their adventure on Terminus, he made several half-hearted attempts to kill the Doctor, but failed. Finally, after the encounter with the Eternals, Turlough turned against the Black Guardian and, by throwing the Enlightenment crystal at him, thereby severing his bond with the evil entity (6H).
Afterwards, he helped the Doctor fight the Master. He then met the