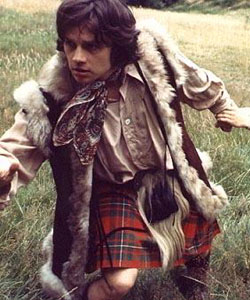 James Robert McCrimmon "Jamie" was the Laird Colin McLaren's piper. The Second Doctor met him after the Battle of Culloden in 1746 AD, helping him, Ben and Polly escape from Gray's sinister clutches (FF).
He traveled with Ben and Polly, then Victoria, and finally Zoe. He helped fight Prof. Zaroff, the Cybermen, the Macra, the Chameleons, the Daleks, the Great Intelligence and the Yeti, the Ice Warriors, Salamander, and the Weed.
After Victoria had left with the Harris', the Time Lords pulled the Doctor and Jamie out of their normal timelines sending them to Space Station J7 to deliver a warning to Dastari about unauthorized time experiments (SS).
He helped the Sixth Doctor and Peri to fight Chessene and the Sontarans, and became the target of Shockey's antrophagous lust, his memories of this were erased by the Time Lords (6W).
During his travels with Zoe, he helped the Doctor fight the Cybermen, the Dominators, the Master-Brain of the Land of Fiction (who altered his physical appearance), the Krotons, and Craven's space pirates. After taking part in the War Games, he was returned by the Time Lords to his own era, just after the end of his first adventure with the Doctor.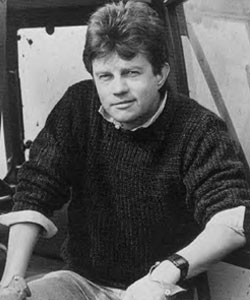 Frazer Hines was born on 22 September 1944 in Horsforth, Yorkshire. At the age of eight, after studying acting at the Corona Academy, he made his acting debut.
He was thirteen when he appeared in Charlie Chaplin's "A King in New York" (1957) and by the age of fifteen, he had appeared in six films. In 1960 he appeared in the eight-part serial "The Young Jacobites". His television roles included "The Silver Sword" (1957-8), "Emergency Ward Ten" (1963), and "Coronation Street" (1965).
After his three-year stint as Jamie in Doctor Who he resumed the life of a jabbing actor until 1972, when he was cast in the soap opera "Emmerdale Farm" as Joe Sugden - a role he has played ever since. In between making episodes of "Emmerdale", as it was renamed in the eighties, he has continued a career in the theatre and made occasional appearances in other TV shows.
In the eighties Frazer he returned (twice) to the role of Jamie, in two Doctor Who reunion stories, "The Five Doctors" and "The Two Doctors". He now lives with his second wife Liz Hobbs (first wife - Gemma Craven) and together they're involved with racing horses, managing their own stud farm. He still acts, appearing on stage and making occasional guest appearances on television.