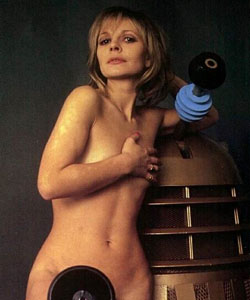 Who", and she stayed for three years.
Following Doctor Who she presented the BBC crafts programme "Serendipity" and appeared as Miss Damina in the film "Don't Just Lie There, Say Something". She returned to the theatre in West End productions of "Why Not Stay for Breakfast", "There's a Girl in My Soup", and, with future Doctor Colin Baker in , "Odd Man" . In 1975 she made a guest appearance in the series "Target". She also appeared in a Yorkshire Television production of "Oliver Twist".
She married actor Raynor Burton in 1975, but the marriage only lasted a few weeks. In 1978 she gave birth to twins Jonathan and Georgina, with partner actor Dean Harris, whom she later married.
She eventually found England to be stifling and in 1982 she moved to Australia where she has appeared in the shows "Educating Rita" (as Rita), "Blithe Spirit", "Run for Your Wife", and "The Odd Couple". She also wrote the television series Private Wives and both wrote and starred in the television series "Don't Call Us".
In January 2001 Katy returned to live in Australia and continues to provide regular voiceover work, and she ahs recently just directed a stage play "Banjo Patterson" starring Barry Crocker.