The TARDIS is drawn off course by the Mandragora Helix, a powerful alien energy complex. Unknown to the Doctor, a portion of Mandragora conceals itself inside the TARDIS, which subsequently lands on Earth. The Doctor and Sarah find themselves in the Dukedom of San Martino in Italy in the 15th century. The evil Count Federico is planning to usurp the rule of his nephew, Giuliano. He is aided by Hieronmous, the Court Astrologer and secret leader of the Brothers of Demnos, a cult of star worshippers. Mandragora takes over Hieronymous, seeking to form a bridgehead so that it can kill the great minds of the Renaissance and plunge Earth back into the Dark Ages. Federico is murdered by Hieronymous now transformed into an energy creature. The Doctor defeats the Helix by draining its energies.

.




The Doctor: Tom Baker
Sarah Jane Smith: Elisabeth Sladen

Guest Appearances:
Count Federico: Jon Laurimore
Giuliano: Gareth Armstrong
Marco: Tim Pigott Smith
Hieronymous: Norman Jones
Captain Rossini: Antony Carrick
High Priest: Robert James
Guards: Pat Gorman, James Appleby, John Clamp
Pikemen: Peter Walshe, Jay Neill
Brother: Brian Ellis
Mandragora's voice: Peter Tuddenhain
Dancers: Peggy Dixon, Jack Edwards, Alistair Fullarton, Michael Reid, Kathy Wolff
Entertainer: Stuart Fell




Producer: Phillip Hinchcliffe
Script Editor: Robert Holmes
Writer: Louis Marks
Director: Rodney Bennett
Designer: Barry Newberry
Costume: James Acheson
Make up: Jan Harrison
Visual Effects: Ian Scoones
Music: Dudley Simpson
..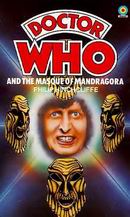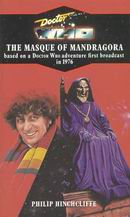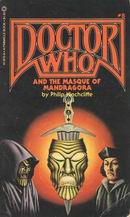 Novelized as "Doctor Who and The Masque of Mandragora" by Philip Hinchcliffe (0 426 11893 6) first published by W H Allen (now Virgin Publishing Ltd) in 1977 with cover by Mike Little. New edition in 1991 published as "Doctor Who - The Masque of Mandragora" with cover by Alister Pearson. Target library number 42.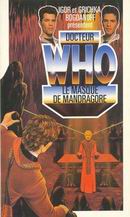 Released in America by Pinnacle. The edition was number 8 in the series of 10, published in November 1979 (0 523 40640 1). Printed for a fifth time in June 1989 (1 55817 224 6). Cover art by David Mann, which went through a number of minor changes.

A French edition was published by Éditions Garancière in June 1987. It was the sixth in the series, translated by Richard D. Nolane, adapted by Corine Derblum and entitled "Docteur Who - Le masque de Mandragore" ( ISBN 2 7340 0218 3).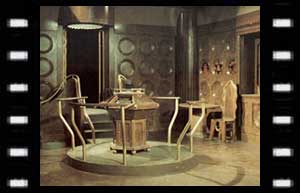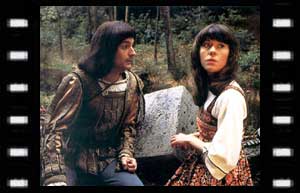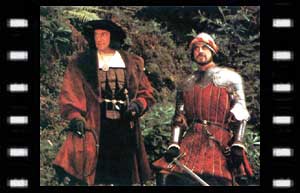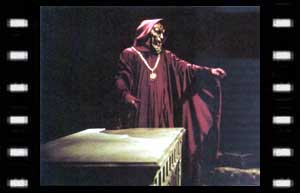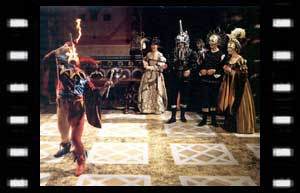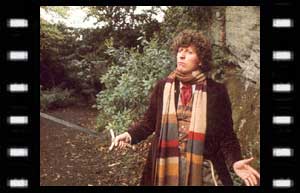 .
.


a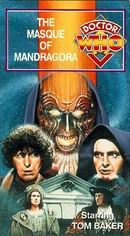 Released as "The Masque Of Mandragora" in episodic format, August 1991, (BBCV 4642).
Released in US and Canada (Warner catalogue # E1203) with cover art by Alister Pearson.


The first time that the wood-panelled console room was used. the new room was designed by Barry Newbery, after Peter Hinchcliffe decided the old one was too big and difficult to record in, and that the central column and main doors suffered constant technical problems.
This was the first Doctor Who adventure set earlier than the twentieth century since "The Time Warrior", the opening story from the Eleventh Season.

All four episodes exist in color on videotape.

Studio recording in Stage TC3. (3-7 May; 8 June 1976)
Porteririon, Penrhyndeudraeth, Gwynedd. (3-6 May 1976)


Episode 1 - Hieronymous speaks spookily and intimidatingly until his grammatical flub about eight minutes into the episode: "The great god's dwelling place must not be defiled by unbelievers in this last hours."
Episode ? - When the Doctor and Sarah are discussing about astrology being nonsense, at one point in the conversation, Tom Baker distinctly refers to Sarah as Lis (Lis Sladen). The line is something like: "It's not nonsense, Lis!"
Episode ? - At one point, the Doctor has a line about being able to use Galileo's telescope 50 years later. This story is set sometime in the 1470's, and Galileo introduced his telescope in 1610, meaning a wait of almost 140 years.
Episode ? - Hieronymous tells the Doctor that another follower of Mandragora will join them, but this mysterious guest never shows up and isn't mentioned again.