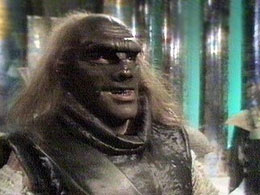 Ogrons are physically intimidating ape like beings of limited intelligence who inhabited a bleak rocky planet where they worshipped and feared a race of blobby orange monsters that could eat them, while the planet was dominated by a large reptilian species.
Their stupidity and strength made them perfect servants to the Daleks. These savage, primitive brutes were used as henchmen by the Daleks to police the conquered Earth. The Third Doctor encountered them twice. The first time, they were pursuing the guerilla from the future (KKK).
The second time, they were used by the Master in his attempts to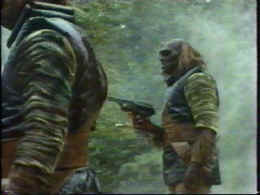 foment a war between Earth and the Draconians during the 26th Century by attacking Draconian and Earth space ships, convincing them that it was each other committing the attacks by the use of the fear generating device.
The Doctor travels to the Ogron homeworld, a barren, desolate place, inhabited by fierce, giant lizards which prey on the Ogrons and turns the fear generating device on them, scaring them with the image of the Daleks, and thus is able to capture the Master, who eventually makes his escape when one of the Ogrons causes the Doctor to be shot and severely wounded (QQQ).