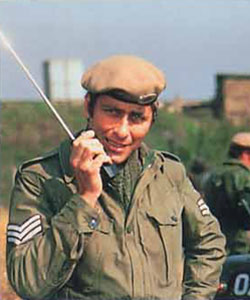 SGT. BENTON: Assigned to UNIT soon after its foundation, he first served as a corporal under Brigadier Lethbridge-Stewart and fought the Cybermen alongside the Second Doctor (VV).
He was then promoted to Sergeant, and became one of Lethbridge-Stewart's most trusted assistants. He helped the Third Doctor and his companions, Liz Shaw, Jo Grant and Sarah Jane Smith, fight a number of threats as diverse as the Master (EEE), (FFF), (GGG), (JJJ), (OOO), the Nestene and their deadly Autons (EEE), General Carrington and his so-called "Ambassadors of Death" (CCC), Prof. Stahlman's Inferno Project (DDD) (during which the Doctor met Benton's counterpart from a parallel fascistic Earth, Platoon Under-Leader Benton), the Mind of Evil (FFF), Axos (GGG), the Daemons (JJJ), the Daleks (KKK), Kronos (OOO) (during which he was turned into a baby by TOM-TIT), Omega (RRR) (during which he met the First and Second Doctors), BOSS (TTT), an invasion of dinosaurs masterminded by Sir Charles Grover (WWW) (during which Mike Yates betrayed UNIT and Benton punched General Finch), and finally the Giant Spiders of Metebelis 3 (ZZZ).
He was then promoted to RSM, and helped the Fourth Doctor defeat Prof. Kettlewell's Giant Robot and the Scientific Reform Society (4A), the Zygons (4F) and the Kraals (4J). He retired in 1979, two years after Lethbridge-Stewart, and went on to open a car dealership (6F).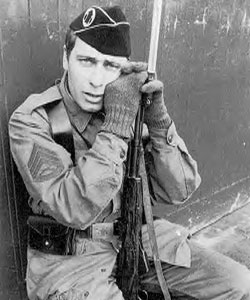 John Levene was born John Woods on 24th December 1941, in Sailsbury, Wiltshire, which is in the South of England.. After leaving home at the age of 21, John was working in a men's clothing store in Regents Street, London when he met Telly Savalas, who encouraged John to sign on at an agency supplying walk on actors to gain an Equity Union card.
His first acting role was in Adam Adamant Lives! He also appeared in " Z Cars", "Whatever Happened to the Likely Lads?", and several other television shows including Doctor Who as a Cyberman in "The Moonbase" (HH) and and as a Yeti in "The Web Of Fear" (QQ), and the "War Games" (ZZ).
Director Douglas Camfield offered John the small part of Benton in the 1968 story"The Invasion" (VV) . Despite not having any formal training it was because of the character's popularity that he was asked to recreate the role as a UNIT regular from the 1970 story "The Ambassadors of Death" (CCC).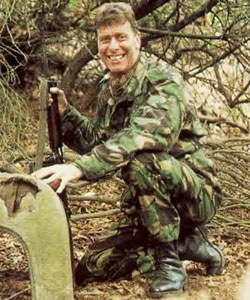 Other Television roles included Callen (1970), The Adventurer (1972), and the film Go For A Take (1972). In 1977 on leaving Doctor Who he gave up acting as a career to set up his own audio visual company, Genesis Communications, with which he directed well over 45 audio visuals and live events for various clients including the Ford Motor company, British Airways, Kentucky Fried Chicken, Amway and Revlon.
He has also worked as an entertainer on cruise liners and has now emigrated to the USA where he has returned to acting under the name John Anthony Blake. He however, returned to the role of Benton in the 1988 Reeltime Pictures video production "Wartime".
Benton was originally slated for a cameo in "The Five Doctors", but John turned the appearance down because he thought it was written out-of-character.
He is currently married to Jennifer Woods (formerly Jennifer Wegner), and is the father of two adult children from his previous marriage. His latest acting work was on an independent movie called "Cannibalistic". He has also acted on episode of the "Big Bad Beetle-Borgs", industrial videos, and has done some voice-over work for Disney and The Queen Mary Hotel, among others.