The TARDIS arrives on planet Skaro. The Doctor deliberately sabotages the TARDIS to have an excuse to explore an alien city. There, the travelers encounter the Daleks, evil mutants who have survived centuries of neutronic wars and who are now encased in mobile machines powered by electricity conducted through the city floors. Later, Susan meets Alydon, one of the Thals, the Daleks' ancient enemies, who have mutated into perfect human beings. Alydon tells her that his race is starving. Susan asks the Daleks to help, but instead they set a trap and the Thal leader, Temmosus, is killed. The Daleks then plan to detonate another neutron bomb to render Skaro totally uninhabitable. The Doctor and the Thals invade the city and destroy the Daleks by cutting off their power.





The Doctor: William Hartnell
Ian Chesterton: William Russell
Barbara Wright: Jacqueline Hill
Susan Foreman: Carole Ann Ford

Guest Appearances:
Alydon: John Lee
Ganatus: Philip Bond
Dyoni: Virginia Wetherell
Temmosus: Alan Wheatly
Elyon: Gerald Curtis
Kristas: Jonathan Crane
Antodus: Marcus Hammond
Thals: Chris Browning, Katie Cashfield, Vez Delahunt, Kevin Glenny, Ruth Harrison, Leslie Hill, Steve Pokol, Jeanette Rossini, Eric Smith.
Daleks: Robert Jewell, Kevin Manser, Michael Sumerton, Gerald Taylor, Peter Murphy
Dalek Voices: Peter Hawkins, David Graham



Producer: Verity Lambert,
Assistant Producer: Mervyn Pinfield
Script Editor: David Whitaker
Writer: Terry Nation.
Directors: Christopher Barry, (episodes 1,2,4,and 5), Richard Martin (episodes 3,6 and 7)
Designer: Raymond P. Cusick, Jeremy Davis (episode 6)
Costume: Daphne Dare
Make up: Elizabeth Blattner
Music: Tristram Cary


a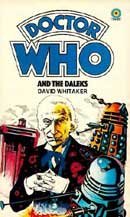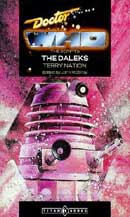 a
Novelized as "Doctor Who In An Exciting Adventure with the
Daleks" by David Whitaker (Target #16), first released in 1964;
later renamed "The Daleks". Cover art by Chris Achilleos, Arnold Schwartzman, Alister Pearson, Peter Archer (various releases).
Also issued in 1989 by Titan Books as a script book, "The Daleks," (1 85286 145 2) edited by John McElroy, with cover art by Tony Clark. New edition in 1994 with cover by Alister Pearson.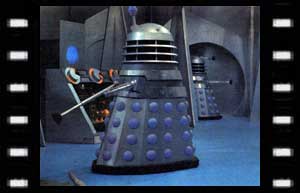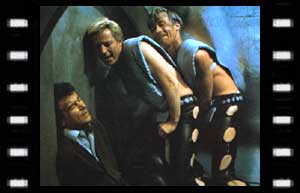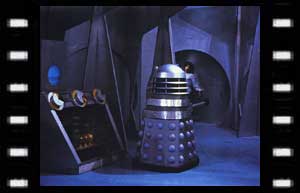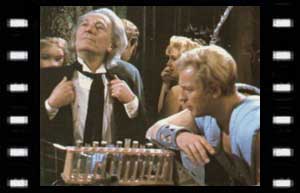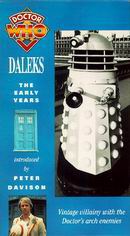 Released as "The Daleks: The Dead Planet and The Exhibition" in UK [June 1989] in Australia and New Zealand (BBC catalogue #4242); Also released in US & Canada in 1995, (CBS/FOX catalogue #8253); as a two-tape set, with photomontage cover, in episodic format (the first-ever BBC "Doctor Who" Video in episodic release). Remastered version of the entire serial set for release in early 2001.
Episodes 1 and 2 are also available on "Daleks - The Early Years", (BBCV 4810) first released in 1992 with photomontage cover.

This was the first Dalek story, which turned Doctor Who into an overnight success with over 8 million viewers and the serial that secured the future of Doctor Who.
The original title was "The Mutants", later changed to avoid confusion with Pertwee story NNN (The Mutants).
This story was later adapted into a 90 minute feature film, "Doctor Who and the Daleks", starring Peter Cushing.

All seven episodes exist on 16mm telerecordings. They were recovered from negative film prints discovered at BBC Enterprises in 1978.

Ealing Filming. (28 October - 1 November; 2 December 1963)
Studio recording in Lime Grove D. (15, 22, 29 November; 6, 13, 20 December 1963; 3, 10 January 1964)

Episode 1 - While Ian and the Doctor are examining the clock in the TARDIS, both manage to interrupt each other.
Episode 3 - There are obvious shots of Susan 'running' through the forest by runing-on-the-spot against a scrolling background.
Episode 3 - In one shot of the interior of the Dalek city, a boom shadow is clearly visible.
Episode 6 - When the Thals are jumping across the chasm, Ian grabs onto the rock wall when he lands. His handhold breaks off with the rip of tearing styrofoam, and the white spot where it was is visible for the rest of the scene.
Episode 6 - In one of the scenes in the Dalek control room, one Dalek runs into the control console with an audible Thud.
Episode 7 - One of the Daleks rattles noisily as it trundles down a corridor.
Episode ? - It is mentioned that the Thals have been traveling for four years, but later on the figure has been shortened to just over one year