In a desperate attempt to gain control of the faulty TARDIS's guidance system and return the two school teachers to London 1963, the Doctor decides to experiment with a new combination. There is a violent explosion and the TARDIS blacks out. Susan and Barbara are convinces this is the work of an invisible alien force but Ian rationalizes it as a technical fault. The irascible Doctor accuses the two teachers of sabotage; he suspects them of trying to blackmail him into returning them to Earth. Finally even Susan begins to suspect Ian and Barbara. However, they eventually realize that the halt has been caused by the ship's defense mechanism, which is also responsible for the psychological disturbances the crew are experiencing. The TARDIS has resorted to these measures because the Fast Return Switch jammed and the space ship was on its way back to the very beginning of Creation.





The Doctor: William Hartnell
Ian Chesterton: William Russell
Barbara Wright: Jacqueline Hill
Susan Foreman: Carole Ann Ford

Guest Appearances:
No Other Cast



Producer: Verity Lambert,
Assistant Producer: Mervyn Pinfield
Script Editor: David Whitaker
Writer: David Whitaker.
Directors: Richard Martin (Episode 1), Frank Cox (Episode 2).
Costume: Daphne Dare
Make up: Ann Ferriggi
Music: (Stock), ("Musique Electronique" by Eric Siday; "Musique Concrete" by Desmond Leslie & Buxton Orr.)


a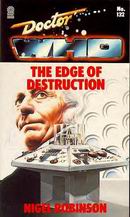 Novelized as "Doctor Who - The Edge of Destruction" (0 426 20327 5 by Nigel Robinson ) (Target #132), first released in 1988, with cover by Alister Pearson.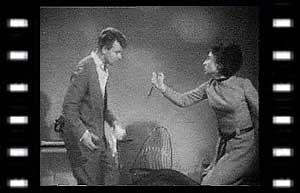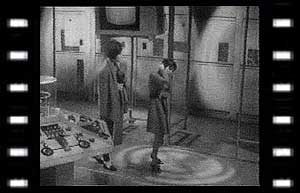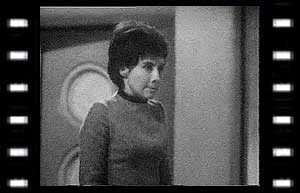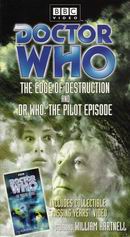 Released as "The Edge of Destruction & The Original Pilot" in UK April 2000 and in Australia and New Zealand (BBC catalogue #6867). Released in US and Canada in October 2000, (Warner Video catalogue #E1497), with photomontage cover. The US and Canada release also included "The Missing Years" documentary released along with "The Ice Warriors" video

This is the only story which takes place entirely inside the TARDIS with no other cast than the regular actors.
The working title for this story was Inside the Spaceship. The only story to use no characters other than the regulars. It is also sometimes erroneously called "Beyond the Sun" but this is a misnomer ("Beyond the Sun" was a working title for a story in the previous slot).

Both episodes exist on 16mm telerecordings, recovered from negative film prints discovered at BBC Enterprises in 1978.

Studio recording in Lime Grove D. (17, 24 January 1964)

Episode 1 - You can see the studio floor in the "white void" outside the TARDIS door in early shots.